Resilience 7-week Online Course
Is your stress affecting you and/or your family now?
Are you over it?!
Would you like to be able to:
Reduce your stress levels by at least half so you can get back to feeling yourself again.
Improve your productivity by at least 20%.
Get my top time-taming tools that will save you at least two hours per week (because it's about more than good old-fashioned time management).
Gain practical strategies that take little time but have a big impact.
This resilience course is designed to help you do just that!
Experiencing changes like this can feel like a million miles away when you're stressed, overwhelmed or your tank is empty. But there is a way to get out of the mire of stress and busyness and into your own new flow.
I've done it.
So can you.
"I definitely feel more in control. I'm more considered, and more productive as a consequence."
This course is for you if…
You are simply too stressed out for your own liking right now.
The external environment and uncertainty of the economy or politics (etc!) are amping up your stress levels.
You're struggling to switch off from work in the evenings or weekends.
You feel like you're just surviving the week or are at the mercy of others' schedules.
You just want to be able to truly fire on all cylinders at work and enjoy more energy.
Maybe you've just taken on a new role at work, you're dealing with business changes, or you're simply snowed under juggling work and family.
If this sounds like you, you probably want to be in a better head space, to have more control over your week and to actually enjoy work and life again.
At least that's what I want for you.
That's why I've created this seven-week programme: to help you hit the RESET button.
Shane, who runs a manufacturing business, found his stress levels were through the roof. He was always snapping at his kids and frequently felt like his heart was beating out of his chest. He knew something had to change. A mate of his told him about the course. He did it and he hasn't looked back. He now works fewer hours while the business is pumping – and his kids love 'Daddy time' in the evenings.
The Programme
The programme runs over seven weeks and covers a range of topics focused on wellness and performance. As well as specific strategies and practical tools you can use straight away, I provide you with just enough 'back story' of current neuroscience and research so that you know why the techniques work and how best to put them into practice.
When you buy now you will get:
Seven weekly video-based trainings including video and audio files for your convenience.
A handbook to accompany each topic in PDF format.
Weekly email reminders to help you stay on track and up to date.
Bonus lessons and downloads.
All tools and materials covered in the videos are fully outlined in the handbooks, nothing is left out.
Being an online series, it's packed with convenience – save travel time by watching and listening from your home or office at the most convenient time for you.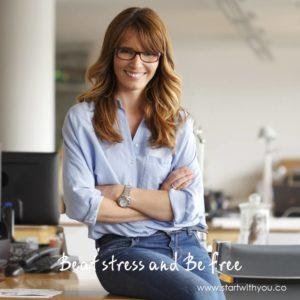 The Balancing Act – Can You Really Have Success AND Wellness? Yes.
I've noticed that sustainable success comes from our ability to balance both wellness and performance – and sometimes that can be pretty tricky. You can have one without the other, but that usually means you're less fulfilled or happy overall, because you're either performing great but burning out and sacrificing your health, or you're feeling well but not making much happen.
How do you get to that sweet spot of having both at the same time? How can you enjoy doing well and being well? This course gives you the map for both.
The course will enable you to:
Designed for busy professionals but suited to any individual committed to better health and more enjoyment of life, this series is geared to help you understand how to get back in the driver's seat – to enhance performance and health and get more satisfaction – at work and in life.
Take stock of your goals, the bigger picture and what wellness and performance could look like for you.
Take charge of your stress response, feel more in control of your emotional responses and calmer and more confident overall.
Be more resilient on a day to day basis.
Regain control of your time, your week and your sanity.
Develop your self-awareness and thus your ability to respond more consciously in all situations.
Reduce anxiety and be more resilient when the pressure is on or change is afoot.
Switch off from work, get a mental break and fully recharge.
Experience more focus, energy and concentration.
Feel more able to deal with changes and challenges.
Be more productive, get more done in less time, and celebrate successes.
Understand how your daily health habits can transform your performance and happiness levels.
Enjoy your day to day life more and more.
Programme Topics
We cover all of these topics plus some bonus classes. You can jump to any of the topics at any time.
It has given me a different perspective on stress/pressures and ways to cope with them internally to minimise their impact."
Your Investment
Standard Programme
NZD$397
---
Seven weekly video-based trainings including video and audio files for your convenience.
A handbook to accompany each topic in PDF format.
Weekly email reminders to help you stay on track and up to date.
Bonus lessons and downloads.
All tools and materials covered in the videos are fully outlined in the handbooks, nothing is left out.
Accelerate Programme with Coaching
$1,995 upfront (payment plans available upon request)
---
Standard Programme as above.
Five one-to-one coaching sessions with Karen Ross over 90-days to help you shift the most stuck stress patterns, make fast change and have accountability. Sessions are primarily by phone, or Zoom when required.
Sessions will be tailored to suit your exact needs and may include approaches to help you clear stress patterns at an unconscious level, help the nervous system 'reset' and regulate into more calm, and clear any limiting beliefs slowing down your progress.
Unlimited email support.
Access to Karen's suite of materials and resources as relevant.
My Stress Story: The Ex-Stress Junkie
When I look back I was pretty stressy with a tendency for overloading myself right from my teens. Whilst living and working in Europe and travelling around the continent for my job, I did well at times to keep the balance, and at others found myself exhausted and run down.
It was once I'd returned to New Zealand running my own business that I sat in my home office one day feeling utterly miserable even though I was doing work I loved. I had great clients, had escaped the pressures of the corporate environment and had time freedom. Why was I miserable? Because I was still so stressed.
I'd changed my circumstances but not my inner habits and patterns. And I know now that stress and success are both an inside job. It's a matter of deciding which one you want.
I decided that day that I would no longer tolerate being so stressed, and thus began my journey out of stress junkie mode. But it was quite a slow journey when I look back, and while it's not an overnight process, these days I'm madly passionate about helping people like you to make that journey as much swiftness and savvy as possible.
I know from my own journey that when you're in the thick of stress, feeling overwhelmed, rushed, busy, shattered, bordering on burnout or just plain knackered, the thought of trying to fit in a seven week course can seem insane, or at least like just another pressure, something else to do and find time for. It's hard to feel even remotely interested when you'd rather use a spare hour to sleep, slob in front of Netflix or lie in the garden staring at the sky (this used to be one of my sanity-go-to's!).
The thing is, it's a dangerous trap because not taking new and different action keeps you in the same cycle. It's a true adage that change begins at the end of your comfort zone – and believe it or not, where you're at now is your comfort zone. It might be uncomfortable and annoying and stressful, but it is your current comfort zone. It's familiar, known and all you can manage right now.
I totally get it.
However, the reality is that blobbing out or avoiding a new activity like this course or a yoga class or whatever you might be contemplating is staying in your comfort zone. It's keeping the status quo because it's too hard, scary or daunting to make a change, even a seemingly small one.
Here's the other thing. It can actually feel like if you add one more thing to your day or your week, you might actually break. And that is a scary feeling.
It's that feeling I want to encourage you to overcome and override – and not let it stop you. You won't break. You might feel really stretched at times or you might find you're kicking yourself one day thinking 'Why did I sign up for this? What was I thinking?!' In the next moment, remember that you did it because you were choosing you.
And when you're not used to choosing you, and when you're used to choosing other people, trying to keep others happy and not letting them down, and getting done what you want to get done – and all those things that keep us in the stress cycle – it takes time after time after time to keep coming back to you and what you need. It is not an overnight job.
You won't break.
But there's a good chance you will have a breakthrough.
And then there's toleration. We get really good at tolerating stuff. We tolerate the worn out dish-brush at the sink because we never quite get around to writing it on the shopping list (even though we use that brush every day and get frustrated by it every time we wash the dishes). We tolerate the seatbelt rubbing against our neck and our good silk blouse because we haven't quite got around to buying a $20 wrap for the seatbelt (they are a Godsend, I swear). We tolerate the way our colleague hands us work with unnecessarily short deadlines because he is constantly disorganised, instead of speaking up and pushing back and forcing him to get his sweet s#*t together. We tolerate being stressed and worn out and pressured and totally fed up because we don't know where to start, we never have the time to take a pause and it's just too hard. (And quite frankly, because we're too nice).
So my friend, this is the moment to seize for YOURSELF. To say:
I am going to find one hour this week, and next week and the week after, for ME. For me to take care of me. For me to learn, to try some new tools, and to take one tiny step at a time to climb my way out of this stress soup I'm in. Because I bloody well deserve it and my life is short enough without having it feel even shorter because I am flying along at break-neck speed like a summertime mosquito.
I want my life back. I want calm. I want to actually enjoy my work day, my week … hell I want to enjoy my life again.
All you need to do right now is decide when you're going to spend that hour for yourself. A Thursday evening? Saturday morning? One morning before work and go in slightly later? After your Sunday afternoon yoga class? Straight after the kids leave in the morning on a Tuesday? Find an hour you can make yours. Then put it in your diary – both diaries if you run a personal one and a work one. Claim the space.
Now decide what you're going to do with that hour – maybe it's this course (start here ☺) and maybe it's something else. But go do it, dear one. Go do it for you.
It's never too late to get out of the cycle of stress, so even if you're not feeling that way yourself, I promise you – from one stress junkie to another – that you can beat stress, build resilience and be brilliant – at work and in life.
Hear from a happy course participants
"Actually identifying and really understanding what is going on and then having tools and strategies to make change has been wonderful. Stop and really take the time to figure yourself out. This could be the start of something very powerful."
S.D., Auckland
"Taking ownership of my time and the strategies for leaving work and making time for play were fantastic for me. Previously, I have found that I would be mentally at work for hours (and weekends) after the conclusion of a working day which wasn't very fair to my partner or myself. Even if I was at home, I would be grumpy and irritable because I really felt like I should still be working."
Marketing Manager, New Zealand
"I have thoroughly enjoyed the program and find myself implementing the tools and strategies and becoming more consistent with them as time goes on. Karen's voice is very calming and the resources provided are fabulous. We all remind ourselves that we are too busy to do this kind of thing, but are we really? Highly recommended. Thank you Karen for this program and also your one on one coaching. Onwards and upwards."
Shannyn, Auckland
"I have really enjoyed the course – it has been a huge eye-opener. Recognising and taking charge of my state is really making a difference to me!"
Stacey, Hawkes Bay
"I found the course extremely helpful at a time when I was going through both business and personal challenges in my life. Learning how to better manage my personal energy and state of mind and implementing Karen's tips and techniques for improved time management and setting daily priorities allowed me to take back control of my day. The result was that I got through this difficult period and achieved outcomes far better than I expected. It has changed how I think and how I relate to stress."
Finance Director, New Zealand
Meet your expert coach – Karen Ross
Karen Ross is an expert coach, intuitive healer and speaker, working with business owners and professionals like you who want to raise their game in life and love what they do. She has been working with people in business to develop, perform and succeed for over 16 years. She has coached and trained hundreds of staff and leaders in over a dozen countries, from Europe to the Pacific, including KPMG International, Minter Ellison Rudd Watts, BDO New Zealand and Soar Print.
Karen's work is a unique blend of the personal and professional; her coaching and healing work encompass both the practical side of putting in place new and useful strategies, and facilitating transformational change. Karen sees our work journey as part of our personal journey of evolution, because often the biggest breakthroughs in our professional lives come from the deep shifts we make personally.
She runs her coaching and training practice, Start With You, based in beautiful New Zealand.
To your wellness and success!